---
is today just one day or day one?Our Classes
Many people have told us how impersonal some yoga studios are. We promise this will not happen at our studio. Our teachers care and will make your fitness class an enjoyable and personal experience. You will not be lost in the crowd.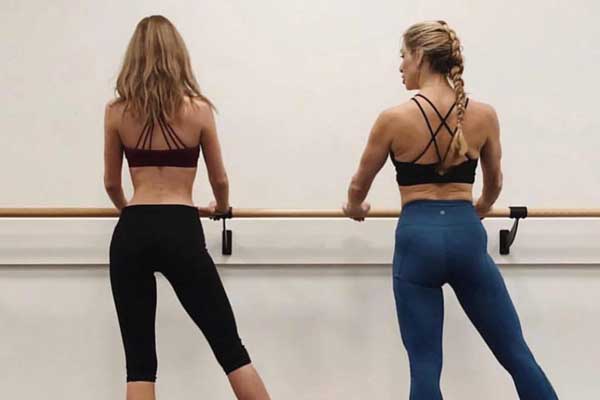 Our Hot Pilates classes are based on the traditional Joseph Pilates method and last for 60 minutes. The practice of Pilates takes concentration, focusing on your centre, flow, precision, breathing and control. The exercises are very effective and work against gravity to tone and strengthen your entire body. The classes are also performed in a heated room to improve benefits and flexibility. Each teacher brings their individual flair to the class based on their skillset, some may incorporate yoga as well.
For a class timetable or to book online click here, and for prices click here.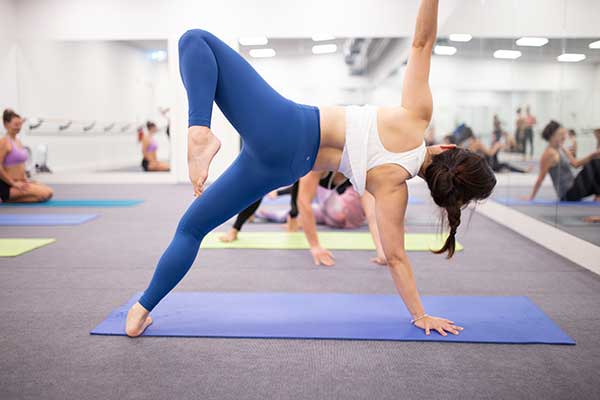 Vinyasa Flow Yoga will provide deep stretches to elongate and restore sore, tired muscles. Using a combination of Vinyasa and Hatha yoga, be prepared to work hard and sweat through the sequence while also calming the mind and creating balance within yourself. This class is fantastic for building your core, back and leg strength, improving your posture, building focus and concentration while giving your internal organs a workout as well! 60 minutes long, this sequence will get your heart pumping while circulating fresh, oxygenated blood to all muscle groups, helping to reduce inflammation and create more mobility for better muscle and joint movement. Increase strength, balance and flexibility it is suitable for people at all fitness levels!
For a class timetable or to book online click here, and for prices click here.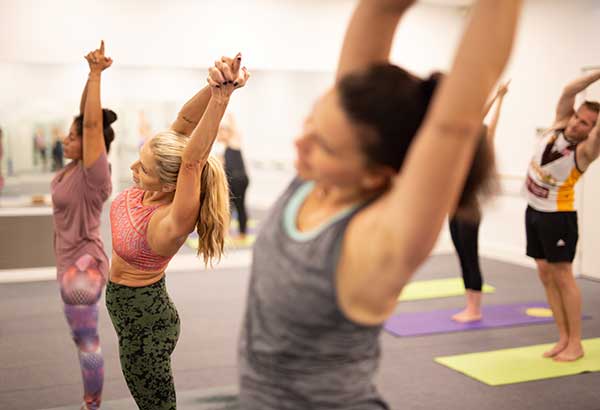 Our Bikram Yoga classes are based on the original 26 postures created by Bikram Choudury, the founder of Bikram Yoga. He is known for bringing Eastern traditions to the West in order to improve people's life for the better. We are so proud of the fact that Belinda was trained by Bikram himself.
For a class timetable or to book online click here, and for prices click here.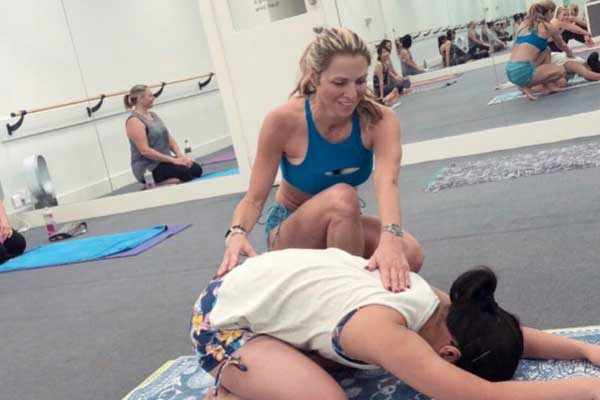 During this non-heated classes, you will be taken through a set of postures that are held for a period of time of 2 to 4 minutes (depending on the posture and each student). By applying controlled and moderated stress to the connective tissue, Yin Yoga allows you to reach a deep stretch at a muscular level while bringing circulation and lubrication to the joints. Increased flexibility is another extraordinary benefit of this practice. We practice and accept stillness.
For a class timetable or to book online click here, and for prices click here.
---
---
Not sure about the heat?
There are so many benefits to doing yoga and pilates with the support of heat, we are big fans! If you do have any questions or concerns about the heat please ask one of our teachers.
We do understand that some people do want a class with no heat, and this is why we are happy to offer several wonderful classes each week that are heat free. They are our Yin Yoga classes. Please refer to the timetable for class times.
For a class timetable or to book online click here, and for prices click here.
---
Family Yoga, including kids
Our ClientsLove Our Studio
Pleasant but challenging

This is my first experience of HOT Yoga having done yoga before but Belinda and her awesome team have made it a pleasant but challenging experience. I like the fact I can do different types of classes here and the teachers are great at explaining and helping you gain the right postures, nobody judges you, it is what it is on the day. So after two and a half months of 4/5 classes per week I have lost 3kg, but more importantly I have lost 5cms of my waist, 4cms of my chest and 3cms of my hips, so effectively dropping a couple of dress sizes. The weight loss isn't a true indication of how much I have lost as I have converted fat to muscle and my body is starting to tone again! Its a great way to get your sexy back and feels awesome when people notice! 'Roxy

The best instructor I have ever had

I am only 29 years old and I have experienced lower back pain for many years. Yoga and Pilates help me to control and alleviate the pain. I have been to many studios to practise Yoga and Pilates. Belinda is the best instructor that I have ever had. I cannot wait until Belinda opens her own studio at Erindale. I want to be her first client.Anna

Thank you for the gift

I have a flexibility now that I have never had before and a waist line again! Not to mention the psychological benefits – to be in a space, mentally, physically and psychologically working through positions correctly through clear and concise professional guidance by excellent teachers is the treat for me. Each and every time I go to a class, I learn something new, a new way to heal and stay flexible, healthy and balanced.. you are guided along to suit the flexibility of your body for that particular moment in time, in a very inclusive, supported, non-judgmental, non-competitive environment. Thank you for the gift of Belinda, Rhu, Connie, Adeline, and team of excellent trainers in my life. Jo

Belinda makes it enjoyable

I have always disliked any form of exercise and I used to get bored taking exercise classes. However I have now done Hot Pilates classes with Belinda and I love it. I schedule all my other activities around the classes. Even my mother is now doing Pilates and loving it (even though it is a long time since she has done any exercise at all). Belinda makes it enjoyable for both of us. I cannot believe she has had 6 children.Carolyn

I feel so much fitter

I have been doing Pilates with Belinda three times a week for the past three months. I feel and look so much fitter. I have lost weight, my muscles are more toned and my core is so much stronger. Belinda makes the sessions enjoyable and she takes a personal interest in my improvement .Brook

---
The perfect setting for your practiceOur Studios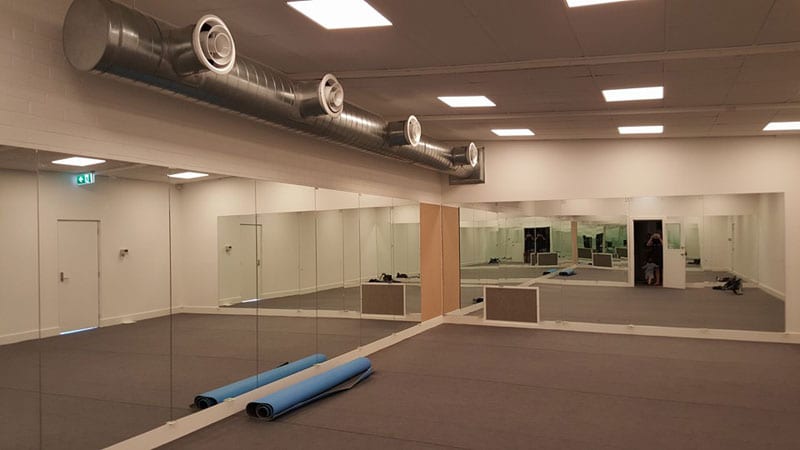 In keeping with Belinda's philosophy of being authentic and being at one with nature, the yoga studio is warm, inviting and decorated in neutral tones of raw wood, natural charcoal and hints of cheerful yellow. The mirrored exercise room is spacious enough to accommodate 30 people and it's heated to 40 degrees Celsius for maximum benefit.
And of course, change room and shower facilities are available, as well as refreshments and yoga apparel.
There is parking at the front of the building and also across the road at the nearby supermarket.
---
handy to knowTips for new yogis
All classes are designed for beginners.
Have a look at the timetable and decide which class will suit you. You can book from the website, mind body app or our facebook page. Doors are locked when the class is on so please ensure you allow plenty of time to get to class. We are located behind some shops.
It is best to not eat 2 hours before class. Try to come in already hydrated, drinking lots of water just before class will make you feel uncomfortable. Wear light clothing that you would be prepared to sweat in. There are no shoes or phones in the yoga room. Please bring a large towel, yoga mat and some water. If you don't have a yoga mat we hire them out for 2 dollars.
A regular practice is at least 3 times a week. you will notice increased strength and flexibility. Mental clarity and you will also learn to relax.
People find they have more energy, eat better food, drink more water and sleep better with a regular practice.
You do not need to be flexible to do yoga or pilates.
The heat warms up your muscles, prevents injuries and allows a deeper release in your body. The heat promotes sweating which assists in flushing out toxins from your body.
For class timetable or to book online click here, and for prices click here.
---
---
Start Now and Meet Your Goals
Is today just one day or is it Day One?

Want to feel better and look great?

Just start!

No matter how unfit you feel, how far you feel you have to go, just start and you will feel the difference immediately.

As they say, "rolling out your mat is the hardest part..." so just start! Once you are here in our safe hands, we will help you get where you want to go.

JOIN US
---
Adapating to the COVID-19 SITUATION Online Streaming Classes!
(Studio Is Temporarily Closed)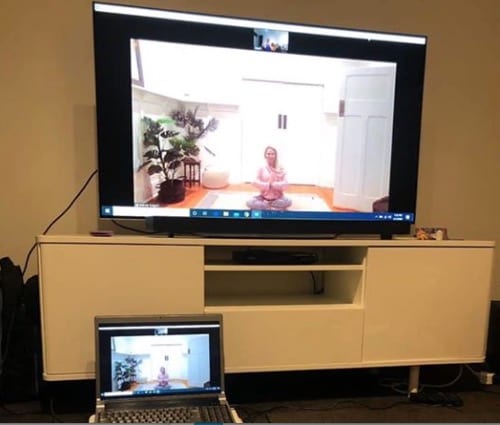 Your safety, health and wellness is our priority.
In line with the changes worldwide, we have moved to a temporary online delivery of all our classes. Rest assured we will continue to create the calm environment that you love in the studio, but you will be able to experience these benefits from the comfort of your own home.
You will be able to book into classes via MindBody as per usual, and you will be given a link to access the class through ZOOM.
ZOOM is a very easy to use application. If you do not already have it on your device, it will install for you via the link that we send. You can watch from any computer, or from a mobile device such as a phone or iPad.
We are sending so much love and compassion to our beautiful community. Let's be strong together and continue to support each other.
Let's not let our practice go because now more than ever is a time that we need the resilience and healing that yoga brings, both mentally and physically.
Special Offer on One one One Online Classes
Are you unsure about live-streaming in a group class?
Belinda is offering one-on-one classes for only $80 per hour (usually $100 per hour).
This gives you the ability to have customised one-one-coaching from the comfort of home.
---
Keep your practice up from home! Purchase Live-Stream Classes!
---
invest in yourselfPricing Options
NEW MEMBER SPECIAL: Unlimited Classes for 14 days for $25*
*For new clients only, once-off only per client, payable in advance.
New members can take out a 14 day membership for unlimited classes for just $25 payable in advance. This will expire 14 days from the date of payment and is only available once per person. One-On-One Classes excluded.
NEW MEMBER SPECIAL: Unlimited Classes for 1 month  for $99*
*For new clients only, once-off only per client, payable in advance.
New members can take out a 1 month membership for unlimited classes for just $99 payable in advance. This will expire 1 month from the date of payment and is only available once per person. One-On-One Classes excluded.
Unlimited Classes Package Prices
Paid in advance.
1 month unlimited classes for $170
3 months  unlimited classes for $430
12 months unlimited classes for $1300
One-On-One or Classes excluded.
Unlimited Classes Instalment Package Prices
Paid by instalments.
12 months unlimited classes - fortnightly instalments by direct debit of $49.75 
3 months unlimited classes - fortnightly instalments by direct debit of $75
One-On-One Classes excluded.
Per Class Prices
Casual visit: $25
10 classes: $180 (must be used within 3 months of purchase)
30 classes: $495 (must be used within 3 months of purchase)
---
---